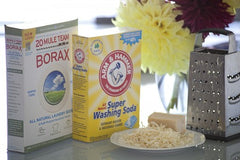 Home made lavender lemon liquid laundry soap recipe
2 Gallon Bucket

2 Gallons Water
1/2 Cup Washing Soda
1/2 Cup Baking Soda
3/4 Cup Castile Soap 
15 Drops Lemon Oil
15 Drops Lavender Oil
2 1-Gallon Glass Containers
DIRECTIONS:
First, measure out 1/2 cup of the washing soda and pour into a 2 gallon bucket.
Add just enough hot tap water to cover the washing soda, and stir well to dissolve.
Measure out and pour 1/2 cup of baking soda into the water/washing soda mixture, and stir well to dissolve.
Fill up your bucket all the way to the top with hot tap water, only leaving about 1/2 inch of room on top. Make sure you do this BEFORE adding in your castile soap, or you'll have a bubbly mess!
Measure and pour into the bucket 3/4 cup of castile soap.
Carefully stir everything together until well mixed.
Pour the detergent into jars or bottles. I used a soup ladle to transfer into my big jars, but if your bottle is thinner you can use a funnel.
TO USE: 
Pour 1/3 cup of the detergent in with your dirty clothes and wash as normal. Contents might settle to bottom or clump, but just give the bottle a good shake before you use it every time and it'll be fine. The clumps will break up in the wash. Mixture may become clumpy when it gets cold, so store in a warm spot.
Your clothes will come out clean, chemical free, and smelling fresh!