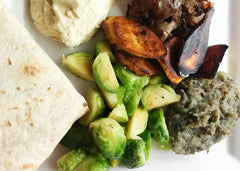 So last night I didn't want a big plate of rice or meat for supper, so I created my signature 'middle eastern plate'. It features hummus, eggplant, brussel sprouts and plantains with some sliced beef.
Ok so maybe it's not totally middle eastern but it sure was good. The plantains are so Caribbean, haha!
The eggplant and brussel sprouts were steamed then stir fried with olive oil and garlic. Everything else was briefly pan fried. Pita bread was warmed in the oven for 3 minutes. 
Just dip and scoop into pita bread. 
Enjoy!
Salisha