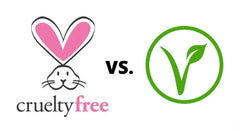 Today, beauty lovers are responding to the trend of Vegan and Cruelty-free products. So, what's the difference between cruelty-free and vegan makeup products?
Not only the quality factor, but users are also now increasingly demanding cosmetic brands. Can include the humanity and responsibility of the brand to the society.
Therefore, some concepts such as "vegan cosmetics" and "cruelty-free cosmetics" have become more popular in the makeup market.
What are cruelty-free cosmetics?
Cruelty-free cosmetics is a category containing all cosmetics that have not been tested on animals. 
In common cruelty-free meaning:
Don't test finished products on animals

Don't test finished ingredients on animals

No third parties test the finished products or ingredients on the behalf

The absence of animal testing in foreign markets
What are vegan cosmetics?
Vegan makeup products that are cosmetics do not contain any animal ingredients or animal-derived ingredients. 
This includes honey, beeswax, lanolin, collagen, albumen, carmine, cholesterol, gelatin, and many others.
Difference between cruelty-free and vegan makeup products
Cruelty-free products, while not tested on animals, cruel-free products may still contain animal ingredients or by-products that would have necessitated animals.
Measure while, though don't contain any animal ingredients, vegan products may still be tested on animals and still legally claim to be "vegan".
When a product claims to be both 'cruelty-free and vegan', it means it was not tested on animals and does not contain animal products or ingredients.
Cruel-free and vegan label
If you are fretting and worrying about whether a product is or isn't vegan/cruelty-free, then look out for certified logos on the packaging. 
Most established brands and organizations will show if their product has passed strict criteria to give you added peace of mind.
 Shop Here for cruelty free and vegan products 
Lastly
So, if you're already supporting cruelty-free and vegan brands or if you're just starting out on your ethical journey, we're happy you're here. 
You're making a conscious decision to support brands that are heading in the right direction.
If you have any questions, do not hesitate to leave a comment