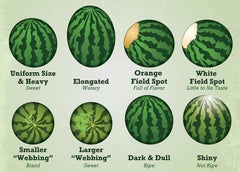 How to pick the perfect watermelon this simmer.
Have you ever been to the supermarket searching for the most perfect looking watermelon in those large bins?
When that watermelon craving hits, we will spend quite a lot on the juicy fruit. It's loaded with antioxidants, electrolites and vitamins. It's a healthy snack that both adults and kids love! 
But, sometimes we bring the juicy fruit home and slice in, only to see it's all waxy and dry looking. Some even taste sour or bland and flavourless if you don't know how to pick the right one. 
So here is a simple chart you save to your phone so you can refer to it when you are about to pick up a juicy watermelon. So go pick up a watermelon at a nearby farm or store today! 
Check out our other fruit readiness charts in the following posts. 
Enjoy!!